Religious Education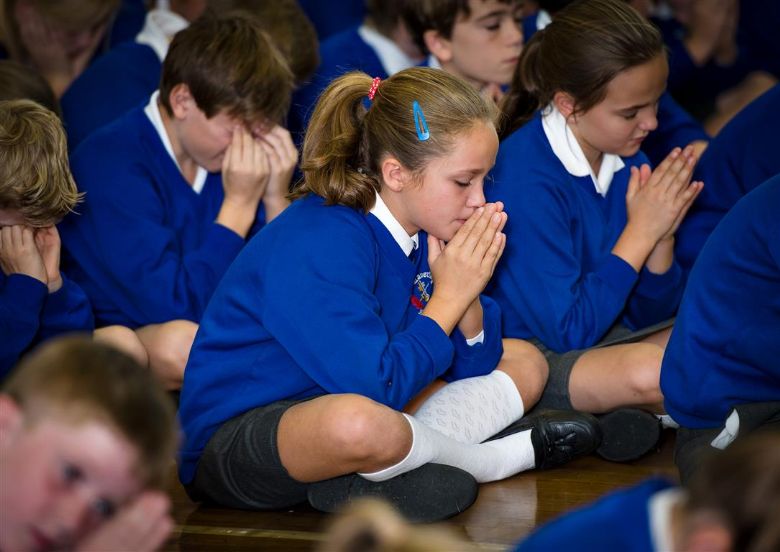 All things are possible for one who believes – Mark 9:23
At Waverley Abbey, we believe that Religious Education is an integral part of our broad and balanced curriculum. Through R.E. lessons we support children in developing a strong sense of who they are and establish an understanding of the wider community in which we live. We aim to equip the children with the necessary skills to express their own personal viewpoints in a thoughtful, reasoned and considerate way. Our children will develop the skills to evaluate and reflect upon the information they are learning and seeing how this could impact their lives.
At Waverley Abbey, R.E gives us the opportunity to celebrate our differences and show our appreciation of everyone's beliefs and views. We aim to create an inclusive, comfortable atmosphere in which children thrive and develop their own beliefs and opinions. Tolerance and respect are key life skills, which are embedded throughout the children's learning. We promote a Christian ethos through all areas of the curriculum in addition to RE lessons however through RE we aim to help children to understand the background and beliefs of Christianity and the main world religions. The children are given plenty of opportunity to discuss ideas and talk about their own experiences. They are shown how to and encouraged to use what they have learnt and apply it to their own lives.
We are very fortunate at Waverley Abbey to partake in workshops delivered by the Signposts team and go on trips to religious places. Each Easter we have a 'Pause Day' where we spend the whole day reflecting on specific parts of the Easter story and the impact it has on believers and our lives.
We base our R.E lessons around the Guildford Diocesan Guidelines for RE with the support from Understanding Christianity. The children learn about a variety of world religions including Hinduism, Islam, Judaism, Sikhism, Christianity and Buddhism. Our lessons follow an enquiry approach, which each unit being themed around a question. Big questions are an important part of school life for us as we encourage children to ask them as a way to deepen their learning. We aim to make lessons interesting and varied to engage all children and include drama, dance, art, design, cooking and poetry as ways to express religious knowledge and personal impressions.
Curriculum Intent:
At Waverley Abbey, Religious Education has a significant role in pupils' spiritual, moral, social and cultural development. It promotes respect, understanding and open-mindedness towards others with different faiths and beliefs and encourages pupils to develop a sense of identity and belonging in our school and wider community. Through our Religious Education curriculum, we aim to engage pupils in enquiring into and exploring 'big questions' arising from the study of religion and belief. We provide learners with knowledge and understanding of Christianity and other principal religious traditions and beliefs with the aim of developing their understanding of the ways in which beliefs influence people in their behaviour, practices and outlook. This enables learners to become aware of their own beliefs and values and to have a positive attitude to the search for answers of life's big questions.