Arts & Music
The Arts are a huge part of school life at Waverley Abbey. We pride ourselves in allowing the children the opportunities to try many different things. We provide the foundations to let pupils achieve their full potential in this area.
We are fortunate to have a dedicated custom built Arts block with 7 practise rooms - all accessible to the children, with pianos, sound equipment and ICT facilities built in.
The Arts Block houses an extensive range of instruments including class sets of djembe drums, boomwhackers, belleplates, glockenspiels/xylophones and steel pans. This allows us to cover a good range of musical styles from across the world. This also allows the children to learn formal and informal music notation in a group context. Work is often recorded for evaluation and composition projects. We also have a custom built and designed performance stage installed in the main hall, with professional sound equipment and lighting.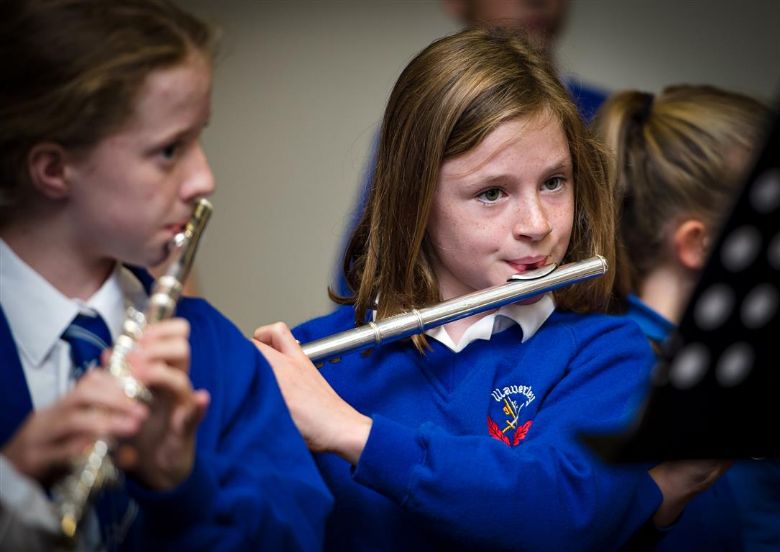 Music is a particular feature of life at Waverley Abbey and the department is flourishing. We believe in trying to achieve the highest standards possible and so endeavour to provide quality opportunities for all children that promote discipline and excellence in musical performance. A big part of how we produce such excellent standards revolves around festivals and competitions including the National Festival of Music For Youth, Godalming Festival, Young Voices, J-Rock and Farnham Festival to name a few. These events encourage and challenge the children, take them out to new venues, provide helpful feedback from music mentors and drive our department to get better and better. We have been hugely motivated over the years with our success and the feedback we have received shows how our children are achieving higher and higher standards. Our singers stand out as some of the best in the area; they sing with confidence, verve and energy, enthusiasm and delight and the enjoyment is written all over their faces when they perform.
The music curriculum at Waverley Abbey is varied, dynamic and inclusive. Every child in the school has a 30 minute lesson every week which develops their understanding of the key musical elements: pitch, timbre, dynamics, tempo and structure. The lessons are taught in a fun, creative way with all the children taking part and learning with hands on experience. Singing is a strong element and promoted through our curriculum and clubs.